I haven't been able to post on here in a while or even go to estate sales or thrift often since I started my job in March. I work Fri-Sun from 6AM until 6PM so it makes estate sales pretty much impossible.
Just before I stopped posting, I showed you
this
:
Turquoise Snowflake Space Saver Casserole!
But since then, Mom found this at a thrift shop in another town. It was hiding on the bottom shelf behind a bunch of junk - $0.89.
A space saver lid!
It's got lots of chips that need to be smoothed out , but she was delighted to find it.
Then I found this matching 943 1.5 quart oval casserole at Goodwill - $3.00.
And Mom had this cradle for the 943, found in the same out of town thrift store - $0.89.
See how cute that looks?

So, even though there hasn't been much thrifting, there has been Pyrex. Even these Town and Country fridgies that I can't stand. Mom found them at an estate sale and wanted them because they're a full set; I'm trying to convince her to trade them away, but so far, no such luck.
I've finally gotten a hold on my schedule enough to hopefully post at least once a week from now on and maybe get an Etsy shop running. Thank you for reading and sorry it's been such a long time.
-Betty
I'm joining Leigh for Thrifty Thursday,
and Diane for Thrifty Things Friday.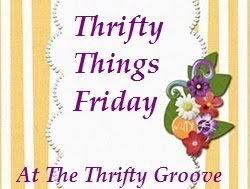 Click the links and join the fun.