I'm sorry I haven't been able to post much but I started a new job last week and I haven't been out thrifting very much so there hasn't been much to blog about.
For as long as I can recall, I've loved maps - maps of anything. And even more than maps, I love globes. I especially love raised relief globes, the kind you can run your fingers over and feel the mountain ranges on. Double axis globes are even better because you can flip them upside down and sideways and get a closer look at the countries.

Every time I go to Goodwill, I lust after globes. Sadly, most of them are either not quite right or too expensive. Often, they are broken AND expensive. Finally, after months of wanting and hoping, I found one that was not broken, AND half price ($3.78). It got to come home with me and sit on the "buffet" (translation: dresser) in our living room until we can find it a permanent home.
It's a beautiful raised relief globe with a double axis, exactly what I wanted! The globe does have one condition issue, but it's a small one. The equator tape is missing. But I've always been bothered by the tape covering up names and places, so I'm not sure I would replace it if I could.
Here's a bit of the South Pacific. You can see from the glue residue that quite a few islands are hidden by the tape, including, ironically, Howland, the island Amelia Earhart never found.
Did you know that unlike maps, globes don't usually have a date on them? You have to examine the globe and look for name changes or border shifts, and things like that. For example, after the fall of the Soviet Union in 1991, a lot of new countries were formed.
As you can see, my globe has the U.S.S.R, so it was made earlier than 1992.
A close look at Western Africa shows the countries of
The Ivory Coast and Burkina (Faso). The Ivory Coast became Côte d'Ivoire in 19
86, and Burkina Faso was known as Upper Volta until late 1984, so I would date this globe to 1985.
If you have a globe you'd like to date,
HERE'S
a webpage with a list of things to look for.
Did you also know that the airplane was invented long before the Wright brothers were born? I know, because my 4 year old self told me so. She knew that there had to be airplanes so that cartographers (she loves big words) could see what the coastlines looked like. She also told me that France is supposed to be pink in every atlas, but some people do it wrong. Nice to know.
But I digress...
Not too long after I found the globe, my mother was at an estate sale and found a bunch of National Geographic maps.
There were two giant political World Maps, and more than a dozen assorted other maps.
I've thought for years that colorful maps would make great wrapping paper. I'm sort of a "wrapping paper snob" and terribly particular about the weight of my chosen gift wrap. Maps are just heavy enough to stand up to the rigors of wrapping and not be torn easily or by accident. My father has been receiving National Geographic magazine for years and has painstakingly saved every map, but NO, we couldn't possibly use any of HIS maps. They must stay untouched. In their GIANT envelope. In the drawer of the desk that no one touches. Just because then he'll know they're safe.
So when my mother found these maps, she bought the whole lot for $1.50 to use as wrapping papers. In addition to the world maps and a map of Europe,
there are country maps, state maps,
historical maps,
brown maps, charts, illustrations,


even dinosaurs! These will make for some very cool packages.
And then we made a trip to the Goodwill Outlet where we rescued this huge book from the landfill.
It's 19.5 inches tall, 14 inches wide, and full of maps from The National Geographic Society.
The folio was bound in 1957, and consisted mostly of strips of gummed paper, to which individual maps were to be glued, as they were printed and issued by The Society.
This book contains 51 maps,
almost a full set,
dated between 1958 and 1965.
Each map measures 20" x 25". We paid $2.00.
It appears, according to the list in the front of the book showing what maps you could have, that not all the maps were put into the folio. We seem to be missing three maps: the Indian Ocean, the Atlantic Ocean, and Western Africa.
I'm not sure yet what to do with this book because I can't bring myself to take it apart and they're not the right weight for wrapping packages. I just couldn't let it go to the landfill. I would consider putting it on Ebay but they don't seem to sell. I guess I'll just save it until I have an idea.
Does anyone else collect maps or globes or have a special place in their heart for them? The Holy Grail of maps for me would be an old pull down map from a school. I saw one at the bins recently but had to pass on it as I just don't have a place for one.
I'm linking to the following parties:
Thrift Share Monday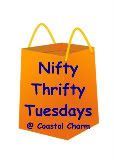 Click on the links to join the fun.