Today I thought I'd show the largest thing I've ever thrifted, and the smallest.

The largest was found a few weeks ago at The Salvation Army during a 50% off sale. It was just under $30 - children not included. It's powder-coated tubular steel; very strong. A new one sells for over $200, so we were very happy to have it.

The smallest thing was found at the Goodwill Outlet, commonly referred to as "the Bins." The Bins is a giant store where they send all the "clearance" items. When the store shelves get too full, they send a bunch of stuff to The Bins, and it gets sold by the pound. It's all dumped into these giant bins, kind of like tables with short sides, on wheels. Customers dig through the bins, looking for bargains. Things get tossed about, and if there are board games, parts get dumped, so I like to look in the bottom of the bins for tiny items.


Here are some of the tiny things I've found. There's a purple wooden mouse, a wooden Professor Plum token, a Barbie telephone, a tiny die, a figure of "Jacque" from Cinderella, a bingo number, a Monopoly top hat, a Clue revolver, some magnetic checkers, a chess piece, a metal figure of the Virgin Mary and a teeny dog. Some of them will be used for altered art, some for dollhouses, some as replacement parts for board games; who knows. Everything in the picture cost about 10c. I also found an entire set of vintage scrabble tiles (with very smooth edges) to make into charms.
Lately I've been ignoring a particular Goodwill in our area, so yesterday I decided to go in and have a look around. And what did I find but lovely Pyrex?! I saw this Desert Dawn oblong baking dish and was immediately interested, so I called my mother to ask if we wanted it. I love oblong bakers, even if we already own two. They have so many possible uses: holding cards, carrying things, making peppermint bark, etc.

This baking dish is a size 232, 2qt. It's smaller than the 3 qt oblong pans that I own in the Daisy and Butterfly Gold patterns. Desert Dawn oblong bakers came in size 231 (1.5 qt) and size 232 (2 qt). I don't know how they compare to one another lookswise but I'd guess that the 231 is probably about the size of a space saver but just as shallow as the 232.

While on the phone with Mom, I spotted this:

An aqua snowflake patterned space saver just like one we saw at an antique store recently for $18.00. My mother loves space savers and aqua Pyrex and was drooling over the one at the antique store. As I picked it up, the conversation went something like this:
Me: I found something but I can't tell you what it is.
Mom: Okay but I'm not sure we need it.
Me: How can you say that? It's Pyrex.
Mom: Unless it's aqua we don't need it.
Me: Only aqua you say? Interesting. What about pink?
Mom: Okay. Aqua or pink.
Me: What about patterns like Daisy?
Mom: I'm really only looking for a space saver.
Me: Okay, Mom. I won't bring anything home unless it's aqua or pink or matches any of our patterns or I really, really like it.
Mom: Wait a minute...
Me: I have to go. Bye!
Needless to say, when I brought it home, she was thrilled, though she'd kind of already guessed it was aqua.
I'm linking up to these parties :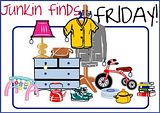 Click on the links and join the fun.