I enjoy finding things at estate sales and thrift stores so much that I sometimes forget that there are deals to be found at retail establishments, too. When
Cherry Chick
blogged about finding a Mary Engelbreit calendar, I was reminded that February is the month to find calendars on clearance. So my wonderful friend Annabella and I stopped at the local Borders, and she bought each of us one of these fun calendars.
Regular price - $12.95. Sale price $1.00!
Annabella's favorite photo.
My favorite photo.
Later, at the local grocery store, I found Valentine's Day items at 75% off, and stocked up on tissue paper.
$0.69/pkg. I bet I can pick up some pastel colors after Easter, too.
Then I stopped back in at the book store and found this page a day desk calendar.
Regular price - $13.95. Sale price $1.00!
Jeff Foxworthy says that he gets most of his ideas from regular folks who come up to him at his concerts and tell him their stories. So most people can usually find themselves or someone they know in at least one of his "Redneck" examples.

But I didn't expect it to be on page one.
And this one:
He says this like I should be ashamed of it.
I started flipping through the calendar and reading the pages out loud.
Then a funny thing happened.
From the other room, I could hear someone commenting softly to himself.
Dad: I fixed that toilet this morning.
Dad: You mean the one I have on my key chain?
Dad: It's not various, it's primer yellow.
Dad: You weren't born yet, but yeah... got some cool stuff.
Dad: Not the liquor store, U-Pull-It (auto wrecking yard).
(Our house is a block away)

Then my Mom joined in....


Mom: It was my brother Johnny.
Dad: Johnny destroyed a kitchen going after a rat?
Mom: No, I destroyed Uncle Johnny going after a rat.
That is, I hit
him
with the broom instead of the rat.
Slipped. Banged his head. Close enough.
Dad: Not the church, but the Sunday School building.
Mom: That would have been nice.
Me: But that Pocahontas towel was really pretty... and I was eight.
Well, not me, but my friend told me about the time his whole family was at Grandma's and they all decided to go to the movies, except Grandma. When they came home, she was in the hot tub naked, drinking a beer.
(I love the movie Hope Floats)
I plan on doing this from now on at any time possible.
That reminds me of a story... a friend and I once went to a yard sale officiated over by two women who were completely wasted. They had recently discovered Four LoKo and decided to have a yard sale to celebrate. When my friend and I arrived, they offered us some. "It tastes just like juice," they giggled. Being underage and not idiots, we politely declined. They continued offering. "You're not undercover cops are you? We won't tell your parents," they whispered, conspiratorially.
Finally, a teen-aged girl came out of the house and barked at one of them, "Mom, you are so stinking drunk! Quit offering them liquor. They obviously don't want any." They were actually quite funny and nice, and my friend got a nice pair of Doc Martens for $10. They told us we just missed a creepy guy who asked if they had any underpants for sale. I don't know if he was intending to try them on there.
Do you suppose you might be a Redneck if you serve liquor at your yard sale?
I'm linking to the following parties:
Roses of Inspiration
Debbiedoo's Newbie Party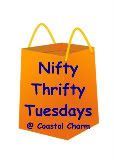 Click on the links to join the fun.