[Update: Scans of the Christmas books for my giveaway are available
here
]
This is our Advent Calendar.

My parents made it years before I was born out of baby food jars and painted it with acrylic paints. The paint was NOT a good choice. It's peeling badly. It should probably be redone. But it's a family tradition. At first, they filled the jars with pieces of paper that said things like: "Watch White Christmas", or "Bake cookies", or "Drive around and look at Christmas lights". But too many times they would open a jar and read the message and not be able to do what it said because of another commitment, so they started filling it with candy. But Mom wasn't comfortable with rotting our teeth in the name of Baby Jesus.
So one year, after Christmas, Mom got the idea to collect Christmas books and use them as an Advent Calendar. At first, she thought finding 24 Christmas themed books at prices we could afford would be difficult, but it turned out not to be that hard. We already owned some of the books. Then she visited the local Goodwill stores in late December when everything Christmas was 75% off.
The first thing she looked at were the Little Golden Books.
I think she paid 15-25c for each one.
Then she found some Christmas classics:
"The Christmas Mouse" is a favorite of my Mom's. It tells the tale of a little mouse who chewed holes in the bellows of the church organ, causing the pastor and the organist to have to compose a Christmas hymn to be played on the guitar - "Silent Night".
"Rudolph, the Red-Nosed Reindeer" is my favorite, because it's the original version distributed by Montgomery Ward department stores.
Not all the books she found were specifically Christmas:
She just stayed with a general winter theme.
We have several versions of "A Visit From St. Nicholas."
And quite a few Bible-based stories:
She even found a scratch and sniff book.
I think it cost about $12.00 to find 24 books.
She made a few mistakes.
This looked like a great book. We love Babar. But it turned out to have too many words and not enough pictures to keep the attention of little kids. No problem; we just found another book. (I still love this book, though, just because it's Babar.)
Once Mom had all the books collected, she found a cardboard box big enough to hold them all, and covered it with leftover Christmas wrap. Then she wrapped each book, and put a number (1-24) on each one. Each day, we would unwrap one book and read it. Occasionally, things got hectic and we skipped a day, so the next day we unwrapped two.
Over the years, we've added and subtracted books. Some books we outgrew. New books were published. I was given some as Christmas presents. Once we had the original 24, we didn't mind paying retail (on sale, of course) occasionally, to get just the right book, like these:
How could we do without
Mary Engelbreit, my favorite artist,
Olive,
Or Charlie Brown?
We don't really use this as an Advent Calendar anymore now that we're grown, but we still have the books, and bring them out with the Christmas decorations.
If you would like to make a thrifty Christmas Book Advent Calendar like this, I have some tips.
1. You don't have to do everything this year. We only have a few days until Dec. 1st, so unless you have an unlimited budget, improvise. Visit the local thrift store and buy what you can find and afford this year, then fill in with other books you have around the house. Your kids aren't going to care if "Good Night, Moon" or "Green Eggs and Ham" ends up in the mix.
2. Let your friends and relatives know what you are doing. They may have books for you.
3. Shop the after Christmas sales for books, especially the thrift stores. Then keep looking throughout the year. We found one of our favorite Christmas books at a Christian Book Store Clearance Sale in July for $1.
4. Consider marking the books with tags that can be switched around. Suppose you have the first snowfall of the season and you want to read "Frosty the Snowman." You're going to want to be able to make the change. You're also going to want to know where Frosty is.
5. If you make a small mark on the back of each wrapped book, (such as FTS for Frosty The Snowman) you'll be able to find Frosty when you want him. And you'll be able to wrap all the books first, then put them in whatever order you want later.
6. Use your library if you have to. Don't try to get all 24 books from your local library, but the library can be a good source for hard to find or expensive books. This is also a good way to find out if a particular book is one you want to buy. Just be sure to return it to the library instead of packing it away for next year.
7. You don't have to spend a lot of money on wrapping paper. After Christmas we would use the wrapping paper from off of our presents to wrap the books for next year. (Ok, we used the wrapping paper from our parents' presents because our paper was ripped to shreds, but you get the idea.) Sometimes we cut up paper bags and drew stars and snowflakes and Christmas trees on them.

8. If you like to change the colors of your Christmas decorations from year to year, plan ahead and buy matching gift wrap at the after Christmas sales with next year's theme in mind.
9. A cardboard box is good enough for this year. Eventually you may want to get a nice basket or a wooden box or whatever fits your decor. You have plenty of time to find the right way to display your calendar.
10. You don't have to use only story books. Here are some other examples:
Make your own books. Kids love to hear stories about when Mom and Dad were children. They also love to hear stories about themselves. Did your family get a pet one Christmas? Tell that story. Use family photos or let your kids draw pictures to go along with the story.
Coloring and Activity books - these are great to unwrap when school vacation starts or just before you drive 6 hours to Grandma's house. Just be sure to have one for each child.
Kids' Cookbooks. If your family likes to bake, get a Christmas Cookbook. Or better yet, make your own. Take pictures of your kids baking, add some simple recipes, and put it all into a book you make yourself.
Family scrapbooks or photo albums.
11. You don't have to stick to books. I think there is something magical about reading books together, and I enjoy picture books even as an adult. But this is about
your
family celebrating the Christmas season together.
Maybe you have a favorite Christmas movie you want to share with your kids. Top of my list would be home movies, of course.
You could even add a CD
or a puzzle.
Whatever you think would fit your family.
12. Make buying a new book every Christmas a family tradition.
Here are a few books that look interesting to me:
Beware of books like this:
It looks so cute and Christmasy. Happy children singing to Santa.

Mice trimming the Christmas tree.
It GUARANTEES sing-along family fun.
Don't be fooled.
If you give this to your children, they will press the buttons all day long and drive you CRAZY with obnoxious tinny "Music". Or they will if they are anything like me. But there is a fix. Just take out the battery. And don't EVER replace it. Make sure you have a small enough screwdriver first, or you'll end up like my mother, who kidnapped the book and had to push the button over and over until the battery was worn out.
***I couldn't get to the box of Christmas books to photograph them, so I used pictures from the web. Credit for most of them belongs to Amazon, or Ebay, both good sources of reasonably priced books.***

I'm sure Mom isn't the only person who has had this idea. If you use a Christmas Book Advent Calendar, or have a favorite book you read during the holidays, I'd like to hear your ideas as well. Please leave a comment.
Be sure to check out my
Christmas Book Giveaway
. You could win seven lovely Christmas books to start your own advent calendar, who knows?


I'm linking this post to:
Thrift Share Monday@Apron Thrift Girl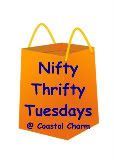 Twice Owned Tuesday @ House Of Grace
Flea Market Finds @ Her Library Adventures
Frugal Friday @ The Shabby Nest