The weather around here has pretty much settled into cloudy, with the probability of rain, daily. This will go on for at least six months, only to be occasionally interrupted for ice and snow. For a thrifter, that brings good news and bad news. The bad news is, there are few garage sales and you
will
get wet. The good news is, the only people brave enough to have a sale in this weather are probably liquidating an estate or selling everything for a move. That means they have my kind of stuff, and they
really
want to sell it. Fewer garage sales also means more things are showing up in the thrift stores, and it pays to check in more often.

I was able to find some nice bargains this week. We found an estate sale with a some 10c Tupperware. It was pretty grungy, so I'll spare you the photos, but after soaking overnight and a good scrubbing, it looked just fine.

But I will show you this Tupperware I found at Goodwill:

Deviled egg tray inserts for my cold cuts keeper for $1. I've been looking for them since I found the keeper in August.

A small parts cabinet full of goodies-$2. Mom brought this home for Dad, but he emptied all the little parts (hinges, screws, brass bits, etc) into one of his other cabinets and gave this to me for jewelry and craft supplies. I think I'll be painting it a brighter color next Spring. She also brought me a giant box full of scrapbooking supplies. She said they practically paid her to take it away.

Mom also made a trip to the Goodwill Outlet Store. This is where they send all the stuff that hasn't sold at the regular stores. Sometimes Goodwill's pricing system makes no sense to me.

These Currier & Ives pots were originally marked $6.99 each. That would be $28 for the whole set! They are very pretty, made in Japan, and look brand new, but really? I think $6.99 for the whole set would have been more reasonable. But they ended up at the outlet for $39c/lb, and Mom is very happy to have them for $1.11. She's thinking about an indoor herb garden.
This golf push cart will be fitted with a garbage can and used to haul gardening tools around the yard - $5, more than she wanted to pay, but she's been looking for a while, and she was feeling generous after finding this:
Pyrex!!
Some are from estate sales, some are from Goodwill. I believe the dark brown bss lid is Old Orchard, but I like it with the Woodland. The yellow bowl is a small hostess bowl I was very surprised to find at Goodwill for $3, and I really like the bright orange Daisy round casserole. It's holding the leftover Halloween candy now. We paid $17.00 for everything in the picture.
And my favorite this week:
My Letter Jacket, Laura.
There are a few holes in the ribbing, but they should be easy to repair. Since the sleeves are wool and not leather, it was actually affordable, at $14.60. I've been looking for a letter jacket at Goodwill for a while but haven't seen any. Now I know why. The tag says it came in last March. They've been saving it for Halloween. I guess next year I'll have to check all the GW stores when they first put out the Halloween stuff. I'd still like to have one with leather sleeves. What's your favorite find this week?
I'm linking up with
Thrift Share Monday
Thrifty Thursday
Junkin' Finds
Nifty Thrifty Tuesdays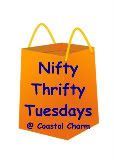 Click the links for more thrifty finds.