Right now, if you walk out to the extra large standing freezer in our garage you will find exactly 27 pounds of butter. What does this have to do with thrifting and vintage? You'll see...
Last week Tuesday, my Mother and I finally went to the local Habitat for Humanity Re-store (which we've been meaning to do for a while) and look what we found.
Yes that is a vintage Hotpoint fridge!
And that IS the price. It is about 2 feet wide and 4 feet tall and doesn't have much storage space in it for food but it DOES have the original shelves and trays.
The white plastic door in the top right corner is the freezer compartment, barely large enough for a few ice cube trays or a stack of those new-fangled TV dinners! It has a glass tray underneath it and in the bottom of the fridge is the original enameled vegetable drawer with the glass shelf covering it so you can see the state of your food.
I began inspecting the inside of the fridge and found a bonus gift! A single pat of squishy butter preserved in a ziploc bag that was tucked into the freezer compartment. YAY!
My mother was IMMEDIATELY on the phone with my father. I believe the conversation went like this:
Mom
: If I buy a fridge, will you haul it home for me?
Dad
: I'm not hauling away someone's nasty garage sale fridge.
Mom
: I'm at the Habitat for Humanity store. That one you won't go to because you say it never has anything good. (Completely ignoring the fact that none of us have EVER been there before.)
Dad
: (
sigh
) We don't need a fridge.
Mom
: It's a cool vintage fridge, I'm thinking 1940's.
Dad
: (
thinking..."cool fridge"
) Where are we gonna put it? (We don't have a very large house let alone much room for a new fridge)
Mom
: It can be your new beer fridge. It'll fit in the garage. It's not very big.
And the next thing I knew, my mother was throwing her wallet at me and ordering me to pay for it while she guarded it like a mother bear guards her pic-i-nic basket. It even came with a 30 day return policy guaranteeing that it worked. While we were paying for it, I watched a man inspecting the fridge and when I went to put the sold sticker on it and take pictures, THE BONUS BUTTER WAS GONE! I hope he's enjoying his old squishy butter because he can't have the fridge!
We perused the entire store and saw lots of potential for future visits but of course we had already found the best item in the place. I can tell you that we will be back soon.
On our way out we chatted up a delivery man and he told us that not only had the fridge spent fewer than 24 hours in the store, it had come out of a man's 1929 cabin and it was working when they got it in.
When we got home we did a little research to try and figure out the year on the fridge and, based on old ads we saw on Ebay, we think it's a 1948 or 1949 model. We also discovered that people who are obsessed with butter (like my mother) can't resist old Hotpoint refrigerators (who needs ice cubes when you have butter?!). I guess it was meant to be ours.
And this is the 1948 advertisement that looks most like our fridge (note they're STILL obsessed with butter!).
Right now, if you walk out to the Hotpoint refrigerator in our garage you will find a pot of clam chowder, three onions, and ten pounds of butter. HA! We didn't need your stinky squishy pat ANYWAY Mr. Rotten Butter Man.
I am linking this to Coastal Charm's Nifty Thrifty Tuesdays and also to Thrifty Thursday at Bloggeritaville.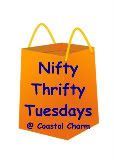 http://lbratina.blogspot.com